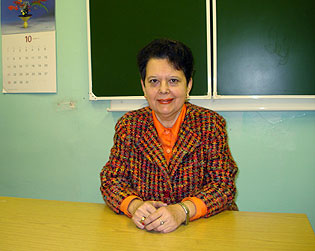 Head of the Department – Ph.D. in Philology, Professor Bykova Stella Artemievna
The Department of Japanese Language was established as long ago as Oriental University came into existence. The Department's teaching staff includes 10 highly qualified lecturers, 2 of them are native speakers and 3 others have a Ph.D. degree in Philology.
The Department's Head is Bykova S.A., Ph.D. in Philology. The Department offers courses in Japanese using effective Russian and foreign approaches, textbooks and original course books made by the Department's lecturers. Much attention is focused on developing literate writing and spoken skills required for socializing or proficient communication, and making translations/interpretations, annotations and summaries. Audiovisuals are used in teaching, including unique videos provided by the Japanese Foundation
The Japanese language course is designed for all the years of study at the Oriental University in groups of 6-8 students.
The students' skills are regularly tested. Students are offered an opportunity to pass a 4-level international examination in the Japanese language NOURYOKUSHIKEN.
Those wishing to advance their spoken skills may choose a study abroad program provided by the Embassy of Japan or Russian educational institutions.
Students in Japanese are offered practical training in various governmental and private organizations in Japan and Russia, and participate in international conferences. In August 2004, the students of Oriental University took active part in organizing and carrying out the World Congress of Orientalists, ICANAS 37. Many students of the 4th and 5th years worked as interpreters.
The Department's graduates find jobs in all kinds of organizations, including Japanese ones, or work towards a Ph.D. degree.
Every year the Department holds student competitions in Japanese, and the winners participate in the Moscow Interuniversity Student Contest in Japanese.
In May 2006 the Department initiated a scientific conference held by the University - Modern Tendencies in the Languages of the World, in which the lecturers of language departments of Oriental University took part.